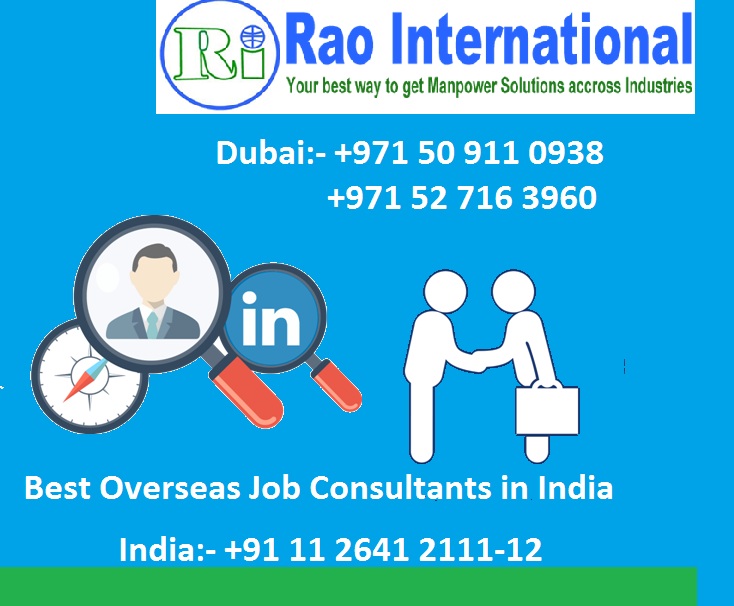 Best Overseas Job Consultants in India
RaoInternational is an Best Overseas Job Consultants in India giving professional and experienced Manpower globally.
RaoInternational encourages people to get a job abroad while they are applying from their country. The most helpful part of this overseas job consultant is that the resumes of candidates are sent by RaoInternational to employers who are looking for suitable profiles.
We guarantee that these resumes achieve several businesses and international overseas consultants by saving the applicants' part of the inquiry. Simultaneously, our recruitment consultant Services team advertises their profiles reliably.
Best Overseas Job Consultants in India
RaoInternational offers RaoInternational to different parts and professions that require special skills and training. RaoInternational gives healthcare staff, for example, Specialists, Consultants, Practitioners, Nurses, Radiologists, Physical Therapists, Speech Therapists, Lab Technicians, and so on.
It is Best Overseas Job Consultants in India for Information Technology, Hotel Industry, Finance and Accounts, and Cargo and Logistic manpower in India, Dubai & Qatar.
If employers reveal interest for any candidate's resume, an email is sent specifically to that person's inbox.
RaoInternational also interfere by negotiating their salaries and different terms with the list of overseas job consultants. It helps experts by not interrupt into their schedules and saving their time in the contract.
RaoInternational utilizes front line technology and ability of experienced HR experts whose aim is to send resumes to coordinating job profiles and employers.
Our Overseas Job Consultants in India are best in the business catering to both the customers and the candidates specifications.
We endeavor at setting the correct candidate at all project levels without compromising an inch on any aspect. This is one reason why we have a strong customer base the world over that relies upon us for their different placement requirements.